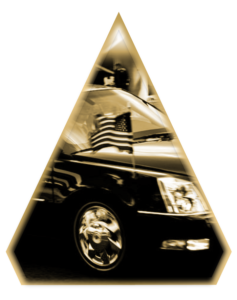 At the heart of ETA Executive Services is a concept that we believe transcends all potential barriers including race, religion, gender and socioeconomic position; the concept that EVERYONE likes to feel special and deserves to be safe when they travel.
As a child, I stood in wonder while watching a presidential motorcade pass by in all its pomp and circumstance. I thought to myself, "That would be the life, to go wherever I wished… move in absolute safety and comfort, unencumbered by traffic and everyday stress… to know others are out in front of me paving the way, and able to change my plans at a moment's notice without sacrificing any of it." That's the heartbeat of ETA Executive Services, and I have spent my adult life making that a reality for myself and others.

Jeff Flournoy
President & CEO
SANA SCHUAIB
Hyatt Hotels Corporation
Vice President, Global Masterbrand, Loyalty Marketing and Creative
I really appreciate your helping with a solution. As always, you are so dependable in a pinch… you are truly the bat phone!!
Ali Krupnik
Havas Events North America
If I could sum up ETA in 3 words, it would be reliable, honest, and high-touch. In the event industry, you know that you can spend months securing A-list talent, deliver world-class content, and create gastronomic food experiences but if your C-suite has an awful airport transfer, that's all he'll remember. With ETA, I can be at ease knowing that they will manage transportation, security, and logistics flawlessly so I can spend time on the areas that matter most. ETA hand pick their team based on the client needs and by the end of the event, it feels like family. These guys go the extra mile because they are truly passionate about what they do, and it shows. I know any market I can reach out to them and they'd have my back. Their tagline says it all – they make it seamless.
Ron Smisek
Phoenician Resort
Director of Security
Working with ETA allows us to offer our helicopter service to our guests with complete confidence. We rely on ETA's expertise to manage a safe and secure landing site.
Scott "Carrot Top" Thompson
Comedian
When working with ETA, I never have to worry about the details. I can enjoy myself and travel with a sense of ease and security.
Tiffany Grame
Octagon
Account Director
ETA is paramount in this business. I encourage all of my clients and colleagues to work with ETA as they are a true extension of our team. The level of service they provide dominates over every other company I have ever hired. Octagon has worked with ETA utilizing all services and neither service is better than the next, everything is always buttoned up. Lastly, the insurance coverage Octagon/IPG requires is extremely high and ETA always ensures we were covered to the maximum. They truly accommodate every need.
Felix Sabates
Trinity Yachts
Owner
I have used ETA for 20 years and have always found them to be professional and trustworthy. I have always experienced 100% on-time service and highly recommend ETA for all travel needs.
Zak Brown
McLaren Racing Ltd.
CEO
I have had nothing short of an outstanding experience with Jeff and his entire team looking after my very important guests and most importantly my family…around the world.
Casper Oosthuizen
Alpha Zero Consultants
CEO & Owner
ETA is a company that is a few notches above their international competitors, expanding into the African continent. We will definitely be working with them here on forward.
Deborah Rowe
Mobil1
VP Motorsports Marketing
From transportation and security to assistance coordinating a special event, using ETA puts us at a distinct advantage.
Mary Jo Andretti
Sprint
Hospitality Manager
When planning our past year-end banquets in New York, and now in Las Vegas, ETA plays an integral part in providing us with security, impeccable logistics coordination, and unprecedented access to even the most difficult venues in town.
Denise Bertelsen
NewPage Paper
Account Executive
When we want to really "wow" our customers and entertain them in new and creative ways, we rely on ETA to pull out all the stops. ETA delivers an impressive array of options with exceptional execution and attention to detail.
Jon Flack
Schmidt Peterson Motorsports
President
I've worked with Jeff and his organization since 2000. He's one of the most quality individuals I've had the pleasure of doing business with and his focus on client satisfaction is exemplary. His business ethics are second to none!
Steve Whitaker, Ph.D.
The First Academy
Head of School
Jeff delivers! His work ethic, passion for life and integrity set him apart from the rest. He delivers on his promises and is a true professional.
Timothy Burke
Amats, LLC
President/Owner
On the several occasions I have had to work side-by-side with Jeff Flournoy, I have observed him to be a man of the highest character and integrity. Jeff is a fantastic leader and treats relationships with the importance they deserve. ETA logistics is a great company because of the leadership and vision of Jeff Flournoy.
Juan McDermott
High Liability Trainer
Executive Protection
Jeff continues to be a supportive and motivational colleague on many fronts. His dynamic approach to all challenges and attention to detail in completing tasks and fulfilling the client's needs, are second to none. Jeff is very influential and enables his employees to become better every day by empowering them to do the right thing and recognizes their achievements through praise and more challenges. It has been an honor to work alongside him on many projects, and I look forward to many more opportunities. Highly recommend Jeff for any tasks or clients that need a responsible, efficient, and aggressive person who will constantly exceed expectations and meet mission every time.